An excellent source of cheesecake pin-up information on the is the alt.binaries.pictures.art.pin-up Usenet group (often known by its initials ABPAP). You will find good discussion of pin-ups there along with a lot of scanned images, and unfortunately quite a bit of pornographic spam. Biographies of many of the great pin-up artists can be found in the "Who is" section of the ABPAP Pin-up FAQ.

ABPAP is the successor to alt.binaries.pictures.erotica.art.pin-up (ABPEAP), which was pretty much abandoned because of the huge amount of spam posted there. So far, ABPAP seems moderately spam-free. ABPEAP still gets stuff posted to it occasionally, which is generally tagged with "ABPEAP" in their subject lines. The legality of distributing the images is questionable at best, but a fair amount of pin-up material is available there.
Other Sources
This brings us to the topic of artists whose on-line galleries contain cheesecake. There are a number of excellent ones.
Jack Henslee's Painted Lady Gallery

Henslee is a particularly talented artist with a fine eye for voluptuous women. His site features pin-ups, mermaids, fantasy, portraiture, and erotic magazine illustrations. I particularly like Jack's pencil sketches. He has a couple of mermaids that are stunning.

Raffi's Portrait of Woman

Raffi doesn't bill his work as pin-up, but his site is devoted to attractive women, many of them provocatively posed, so it qualifies. He has nudes, supermodels and portraits. His pencils are excellent.

Kim Harlow

Kim is an artist from southern California who, "draws pretty ladies", mostly in colored pencils. Her site and art may remind you of Jack Henslee, whom she thanks. Kim's earliest works are a little crude, but she shows rapid improvement and her latest work is excellent. She does classic pin-up, fantasy and erotica.

Donald "Rusty" Rust

I've covered Rusty's work earlier. His site contains glamor, wildlife, illusion, clowns and more. Most of the originals are for sale and thus change regularly.

Aslan

Aslan's work is covered earlier. He has a wonderful web site, covering not only his pin-up work, but his sculpture, fine and commercial art. I particularly like the lead pencil sketches of women in his adult section. They combine the best aspects of his pin-up work with same sort of feel as Henslee's sketches.

Carlos Cartagena

Airbrush artist Carlos Cartagena is pretty new on the scene, but he has a quite extensive web site featuring modern and classic pin-ups, mermaids, and fine art.

Greg Hildebrandt @ Spiderwebart

This is another page not run by the artist. In this case, though, the studio is run by his son, Gregory Hildebrandt Jr. Spiderwebart carries mix of fantasy, comic and a little bit of everything from Tolkien to Star Wars and Pin Up to Harry Potter and Magic the Gathering to Spider Man.

Paul Corfield's Little Miss Pinup

Paul Corfield is a talented young English artist, who has grown considerably in the medium since I first added him to this page, as his homage to Petty's "Sheer Elegance" shows, and I look forward to watching as he continues to refine his technique.

The Dave Stevens Home Page

Dave, who was one of the greats of late 20th century pin-up and comic book art, passed away in 2008, but his web page remains. Many of the images are small, but the site is very complete.

Don Henderson

Don Henderson's Bikes, Trains, Planes or Dames site features airplane nose art and other cheesecake sections. His style can be a little stark or primitive, but it has a lot of energy and captures the feel of 40's nose art, and how can I fault Celtic Lace, a section devoted to pin-ups in Celtic motifs, two of my favorite things?

Rion Vernon's Pin-Up Toons

Vernon's style is one of the most cartoon-like here, but there's no question he does Pin-up. His style blends classic cartoons with a modern sense of style, and he obviously has a crush on Jessica Rabbit. I'm not fond of the platform shoes, but I can't think of any other short-coming.

Andrew Bawidamann

Andrew, like Vernon has a very cartoon-like style, even more, though, it is a style well suited to the poster and and nose art that were so imprtant in earlier eras of pin-up. Both his themes and his are extremely authentic to his roots in mid-century pin-up.

Thierry Beaudenon

Thierry's work ranges from a slick airbrush style to comicbook art, but all of it is strongly in the cheesecake school. There are a few places where the posing seems a little stiff or awkward, but overall this is excellent stuff.

Mutoscope World!

Mutoscope World is a site devoted exclusively to one sub-genre of Cheesecake: "Mutoscope cards", which were collectable cards from the 40's. The covers the subject thoroughly and has an excellent History of Pin-up page as well as a number of artist biographies.

Drew Posada

Drew, who died young in 2007, was a big fan of Sorayama, and it showed. His style had a slick quality remeniscent of Sorayama or Olivia, another artist who inspired him. Drew also did good deal of work for Image Comics. With his death, his own site is gone, but some of his artwork can be found at Grimpuppy and other sites.

Ric Frane

Ric Frane is a talented artist with a somewhat dark vision and an excellent collection of models. With my fondness for La Maupin and such, it should come as no surprise that I like the "Bladed Babes" and "Pirates" gallery. Some of the other pages are a bit darker than my tastes, though.

The Goddess Art of Jonathon Earl Bowser

Bowser describes his art as "Visual Meditations on The Goddess and The Divine Feminine - a quest for the Transcendent Truth in Beauty." and his site is full not only of his art but his philosophical ruminations as well. The art is beautiful and the Web site design excellent. his work can also be found on sites such as Jaap van Deijk's.

Tallulah

The original artwork at this site is all attributed to an artist known only as Tallulah, and is not strictly a pin-up page. It features new and classical nudes, erotic nudes, and vintage post cards and the like.
---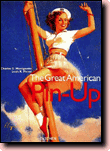 The Great American Pin-Up
by Charles G. Martignette
and Louis K. Meisel

Published by Taschen 1996,
384 Pages, 12 3/4 x 10",
901 color plates $50.00
Perhaps the best book available covering the history of Cheesecake is "The Great American Pin-Up" by Charles G. Martignette and Louis K. Meisel. The book covers pin-up art from 1920 to 1970, and a bit beyond. It sticks fairly strictly to the classic American pin-up, leaving out more recent and risque artists like Aslan, Olivia, Nagel and the like.
This is an excellent book, both as a reference on classic American pin-up art, and as a collection of beautiful pictures.

---
Mr. Meisel also has a "The Great American Pin-Up" Web page and runs the Louis K. Meisel Gallery in New York City. His gallery deals in the more realistic styles of art, be it "fine art" or illustration, including pin-ups.
The San Francisco Art Exchange is a fine art gallery in San Francisco which features original and reproduction work by Alberto Vargas and such contemporary artists as the Rolling Stone's Ronnie Wood, and Roger Dean. Their Web pages include an on-line store selling both limited edition lithographs and posters. They also have original Vargas artwork for sale.
Robert Bane LTD Inc., California based fine art publishing company, runs a couple of Web sites including World Of Pinup, a.k.a. Robert Bane Editions, featuring Olivia DeBerardinis, and artists such as Hajime Sorayama, Walter Girotto, Jim Silke, Carlos Cartgena, Greg Hildebrandt and many others. They also operate a fine art gallery in Los Angeles, the Tamara Bane Gallery which deals in photorealist, pin-up, neo-romantic and pop art. The gallery's Web site features the work of artists such as Walter Girotto, Gil Bruvel, Mel Ramos, Jenie Moore, Kevin Kelly and Charles Bell.
---
There are a couple of good sources of contemporary photographic Cheesecake on the Web.
Most of the pin-up photography on the Playboy web site is Cheesecake. They have one of the most heavily frequented sites on the net, so they tend to stay at the more conservative end of the erotica spectrum. This site features a bit more nudity than this page, but not a lot.
At one time I though that the Michael Scott Agency had one of the best photographic cheesecake sites. It specialized in "fitness models" and offered both swimsuit and nude photos. Since then they've broadened out into a whole collection of sites, and I think the quality has suffered tremendously. Their typical model now seems to have an extremely augmented bosom, a lot of makeup and no obvious relationship to fitness competition.
Banners etc
If you'd like a banner for a link to "Cheesecake and the Art of The Pin-Up, feel free to use one of these:
Banner


URL to link to:
http://www.eldacur.com/~brons/Art/Cheesecake.html
---
This page is NOT about the sweet edible confection. For that, I suggest you visit:

---
Brons
---
Navigation by WebRing.
---
The text of this page, and the page as a whole is © Copyright 1996-2004 Jim Burrows.
All Rights Reserved.

The pictures used to illustrate the styles and artists reviewed here are all copyrighted by their respective creators (or their estates) or publishers and are used without explicit permission. I've done what I can to keep that use within the definitions of fair use.