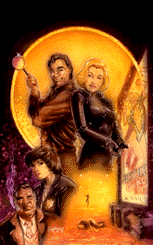 The new Maze Agency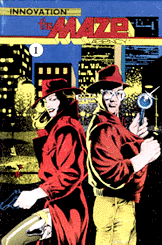 Reprinted Graphic Novel

This month (September 1997), one of my all-time favorite comic books, Mike Barr's The Maze Agency, has resumed publication after an absence of six years. For those who don't know it, the Maze Agency a "play fair" mystery comic. Also, Caliber has rereleased the Maze Agency graphic novel, reprinting the first four issues of the original run of the Maze Agency. I recommend both.

The Maze Agency is one of the few "play fair" mystery comics ever produced. By "play fair", I mean that like better mystery novels, it presents the reader with all of the clues that the detective uses in order to solve the mystery -- the sort of thing that Ellery Queen was known for. (This isn't too surprising as Barr is a big Ellery Queen fan.) Due to the comic book format, these are rather small mysteries, and I cannot claim that Barr is one of the top mystery writers in the world, but his stories a well crafted and interestingly told.

Beyond being good examples of a rare genre, the Maze Agency has always had very high standards for art. The first several stories were drawn by Adam Hughes, and were among the first things that he did in the business. Adam, for those who don't know his work, has a very clean and beautiful style and is especially known for his "good girl" art, although that didn't feature prominently in the Maze Agency. The lead character in the book, private detective Jennifer Mays, is beautiful, but is not the sort of character who lends herself easily to pin-up style illustrations. Hughes was the first and arguably the best artist on the Maze Agency, but those who followed all shared his clean hand and realistic, or super-realistic style. The current artists, Gene Gonzales and inker David Rowe, are no exception

From Previews Magazine
Maze Agency #1
by Barr, Gonzales, & David Rowe
Comics' favorite detective team returns in an all-new series! One of the most-requested series to be brought back from eighties limbo, this is also the title that helped to launch some of today's top artists; such as Adam Hughes and Jason Peterson! In "The Death of Justice Girl," Manhattan private eye Jennifer Mays and true-crime writer Gabriel Webb investigate an on-the-set murder of the actress who played Jennifer's child-hood comic book heroine -- and if they're not careful they could be next!
_____ b&w, 32pg
$2.95
Even more than the art and the mysteries, though, what attracted me to The Maze Agency was the characterization and the writing. The book centers around two characters, Jennifer Mays, the owner and top investigator of the Maze Agency, and her friend Gabriel Webb. Like Ellery Queen, Gabe is a mystery writer who is close to a detective and ends up getting involved in the investigations. Unlike Queen, Gabe writes for the "True Crime"-style tabloid magazines, and the detective he works with is his lady friend Jennifer, who is quite unlike Ellery's father Inspector Queen. In the first few stories, Gabe and Jennifer are just friends, although it's clear that Gabe harbors romantic notions and that Jennifer is not averse or immune to them. By the time of the current issue, the two have a very comfortable romantic relationship going.

Over time we've gotten to see the relationship grow between the two characters and learn more about them and their pasts. Barr has done an admirable job of making them real and making their relationship believable and authentic. This, to my mind was the true strength of the book.

So, there you have it, a believable romance, "play fair" mysteries, interesting and likeable characters, lush and beautiful art often featuring pretty ladies drawn by some of comics better pin-up and "good girl" artists. What more could you ask? I therefore recommend that you look into the graphic novel and the new series from Caliber.

The Maze agency is published by Caliber Comics, created and written by Mike Barr, drawn by Gene Gonzales.

---
|| Previous | Comics Page | JimB's Home Page | Next ||
---
|| Home Page | Musings | Role Playing | Nerd's Corner | News | Genealogy | Eldacur | Free Speech ||
---
Copyright ©1994-2005 Jim Burrows.
All Rights Reserved.
Last Updated: Jul 15, 2008