Pin-up: The Illegitimate Art
by
Jim Silke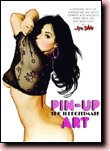 Jim Silke has done it again. Once more in Pin-up: The Illegitimate Art, like Bettie Page: Queen of Hearts before it, he has treated us to well-informed and very personal perspective on pin-up, art and popular culture. This time he has done so in the form of a somewhat idiosyncratic autobiography, richly illustrated with his own work and that of a number of other artists.
There are several threads woven together into this book. The first is Silke's thesis as to the place of pin-up art in the history of art, society and even religion. The second is a history of art, pop culture, and pin-up illuminated by this thesis. The third is Silke's own autobiography. The fourth is a generous helping of Silke's own art work served up with a goodly sampling of other artists. The final thread is a peculiar editorial narrative wherein a fictional editor, an alter ego of Silke's critiques and often dismisses Silke's thesis, explaining that it is all just a pretentious justification for painting or looking at nekkid women.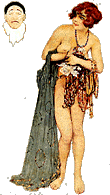 Silke's thesis is that pin-up art arises from the tradition of the Commedia dell'arte -- the "illegitimate" improvisational street theatre that started in Italy sometime in the 16th century century. While many people today may not recognize the term, Commedia's influence can be seen in many aspects of modern culture. From its characters descend Harlequin, Columbine, Punch and Judy, Scaramouche and Figaro. It's methods and stock plots influence mime, opera, and slapstick (a form of comedy that takes its name from one of the standard props of Commedia).
Silke's thesis would never really have occurred to me, and I'm not certain that I fully buy it, but it has a certain appeal. The floating clown head motif (see right) in Raphael Kirchner's La Vie Parisienne series mentioned in my page on 'Origins', certainly is suggestive of at least a bit of a link. Regardless, his assertions at least provide an excellent context for thinking about and discussing the intellectual, artistic and social merits of Pin-up.
As with his previous book, Silke once more delves into the history of pin-up and commercial illustration, putting pin-up in context and introducing us to many of the greats in the field. He starts with 2 greats: Milt Caniff and a particular favorite of mine, Andrew Loomis. The Loomis illustration he uses on page 13 is a lesson on line and tone from "Figure Drawing For All It's Worth". This is an interesting choice, because the thing that most sets Silke's style off from other pin-up artists is the fact that he stresses line much more than most.
Andrew Loomis
was a mid-twentieth century illustrator who was particularly known for his art instruction books, including Fun with a Pencil, Creative illustration as well as Figure Drawing For All It's Worth. Generations of professional and amateur artists have learned from his books.
While this book is entitled "Pin-up, the Illegitimate Art", actual cheesecake-style pin-up art is only one of the topics or schools of art covered, and perhaps not even the main one. Oh, there are lots of pretty girls and femmes fatale, but Silke seems to focus on the broader subject of women as the subject of illustration and "illegitimate art", that is art that is not regarded as "Fine Art". Much of the art by other artists is not pin-up, but facial portraiture or illustration featuring women in context. So we have magazine covers, ads, story illustrations and such.
As to Silke's own work in the book, while it is almost always solely about the model, with only the minimal essential props and distractions, there is one element of classic pin-up missing from most of his pictures: the smile. Classic pin-up art features the woman's smile and gaze as much as her body. Silke notes this himself. He writes "Traditionally, glamour art has no place for guns, swords, spears, or any other hint at real deviltry, no darkness whatsoever. It destroys the illusion. Destroys that light-minded ambience, carefree excitement, and feeling of good times being had by all...", and yet "at this moment in time, even though I admire a woman most for her smile and laughter, I'd rather draw her when she's angry and armed."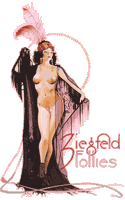 Don't get me wrong — this is a great book, full of beautiful images of strong and exciting women. I just find the title a bit misleading. It gives very little clue as to the fascinating and idiosyncratic personal journey through art, illustration, popular culture and the love of women that awaits within the covers. His first book had a similar problem. The title gave no hint that it covered not only Bettie Page, but the at least a half century of pin-up and popular culture.
The two books represent a very personal tour through the popular culture, art, illustration and cheesecake of the last hundred years. I heartily recommend both.
If you're interested in perusing the book a bit before buying, both Amazon and TFAW.com have excerpts available on-line. In fact, this is one of the books that Amazon has made searchable.

by
Jim Silke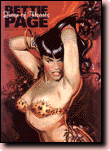 There have been lots of books, magazines, and articles written about Bettie Page, but this book actually does a credible job of explaining why Bettie is so popular. The author, Jim Silke, is a professional artist, photographer and art director. His credits run the gamut from designing Nelson Riddle record jackets at Capital to publishing and editing Cinema magazine to photographing Sharon Tate to writing and drawing his own comic (a new career he started in his sixties after "retiring") "Rascals in Paradise". Silke is a qualified expert in the area of popular culture and trash.
It's easy to find books with more pictures of Bettie or more details about her life and career, but it is hard to find a book about her with better pictures, more beautiful design, or with a better understanding of her or of the popular culture of the last 50 years or so, or her place in that culture.
Bettie, for those of you who've managed somehow to miss the phenomenon, was a pin-up model in the 50's. Not regarded as famous at the time, she has undergone something of a revival in the last ten years or so, achieving the open recognition that the time denied her. Pictures of Bettie now fill book after book, and artists who weren't even born when she last posed are using her for a model.
I was particularly touched by Silke's view, as an artist, on art, illustration, and "trash", a view rather close to my own. In the last 150 years art has tried to elevate itself intellectually, or more precisely, intellectuals have tried to elevate art, tried both to analyze it and legitimize it. Unfortunately, the intellectual climate of much of the last 150 years has devalued the sensual, the visceral and the animal side of human nature. The manners and morality of the time has seen the human body as something shameful and dirty, and regarded passion as "base passion", something to be overcome.
The truth is, it seems to me, that art is physical, not intellectual, that it is effective specifically when it does affect our viscera, that the very act of creating art is itself sensual. Art may affect us intellectually, it may excite, crystalize and communicate great truths and ideas, but it does so by "making sense of" those ideas, that is by tying them to our senses and making us feel it in our gut. Having given the idea reality and impact it inspires us to think and consider the experience.
Silke's book is effective because it is personal. In many ways it is as much an explanation of his own search and growth as an artist, his own reaction to pictures of Bettie as it is about Bettie herself. Neither Silke, nor Bettie fit readily into the art theory of the fifties. Silke sets the stage thusly:
"In those days, modernists dominated the art schools, even those specializing in representational art, and the model was thought of as an object, a starting place for the artist to create his or her own two-dimensional world. The instructors validated this dogma with more dogmas, claiming that Degas' paintings were not of ballet dancers, horses and nudes, but of geometric shapes, lines and color -- that they were objects of art, not images of women bathing and drying themselves."
But art theory was not the only tradition at the time. There was another, at least as old--the craft and art of illustration. Silke the young man turned to that tradition and Silke the author gives us a wonderful tour of a part of that world, the part that Bettie touches.
Silke traces briefly the early history of this tradition from the founding of La Vie Parisienne in 1863, through work of artists like Dore, Kirchner, and Chabas. He then looks in detail at several schools that arise from this tradition: illustration in both the "pulps" and the "slicks", women's magazines and paperback covers, art books, movie and girly magazines. He presents Bettie in the context of artists like George Petty and Alberto Vargas, Andrew Loomis, Robert Maguire and Robert McGinnis.
He also relates Bettie and her appeal to the European "bad girls", Brigette Bardot, Gina Lolabrigida and Sophia Loren, and to the Jungle girls: Niktoris, Nyoka and Jane, and the women who portrayed them, Maureen O'Sulivan, Hedy Lamar, Maria Montez and Yvonne De Carlo.
But perhaps most of all Silke shows us Bettie in this context, juxtaposed with all the paperback covers and pinups is Bettie herself. He gives us many of the best and most well-known photographs of Bettie, including a large number by Bunny Yeager. There are also lots of drawings of Bettie, many of them original for this book. A large number are Silke's own work, but he also has drawings by comic book artists Dave Stevens, Mark Schultz, and Al Williamson and paperback artists William George, Robert McGinnis, and Mitchell Hooks.
Seeing photos of Bettie side by side with the artwork she has inspired and all in the context of the pin-ups, illustration and art history of the last several decades explains a lot. Most obviously it helps us understand the Bettie Page phenomenon. Also, for those of us who are suddenly aware of Jim Silke it explains a lot about just who he is. Perhaps, though, most importantly, it tells us a good deal about ourselves and our society. In explaining Bettie and his artistic reaction to her, Silke tells us a lot about art, fantasy, the sensual, and how our society feels about each of them.

---
Brons
---
The text of this page, and the page as a whole is © Copyright 1996-2004 Jim Burrows.
All Rights Reserved.

The pictures used to illustrate the styles and artists reviewed here are all copyrighted by their respective creators (or their estates) or publishers and are used without explicit permission. I've done what I can to keep that use within the definitions of fair use.