Kurt Busiek's Astro City (see also Martin Wisse's Astro City homepage) is part of a small sub-genre that also includes Marvels and Kingdom Come. All three represent highly realistc explorations of the lives of one universe's superheroes viewed as real people. Astro City differs from the other two in that the universe it explores was created especially for it, whereas Marvels and Kingdom Come explored the characters of the Marvel and DC universes.

That these three are similar is not too surprising, given Alex Ross's involvement in all three projects. Ross's paintings were used as the interior artwork on both Marvels and Kingdom Come, and he has done both the covers and preliminary design work on Astro City. Kurt Busiek collaborated with Ross on Marvels.

Perhaps the most serious problem that Busiek faces with Astro City is the fact that we readers don't have any previous experience with the characters of his world. His solution is to base his world and the characters in it on the icons and archetypes of the comics worlds we all know. Many of his characters are familiar to us because they are like one or more characters we already know, but different in ways that he makes quickly clear.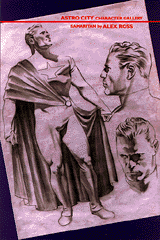 For example, the Samaratin, shown on the cover of the graphic novel above, and on the back cover to the right, is like Superman, as much like him as Captain Marvel, but different. By showing us that fact and some of the more obvious differences, Busiek can make him familiar quickly. Similarly, Winged Victory isn't Wonder Woman, nor are the First Family the Fantastic Four, but they are based on the same archetypes, and so they are familiar.
This all works because what Astro City is about isn't just simple superhero stories of the old school, nor the costumed vigilante anti-hero slugfests that have been so common over the last several years. It's about what it would be like for real people to live in a world with superheroes, alien invasions and the like. What would it be like to be a superhero of the Superman/Capt. Marvel sort? The first Astro City story dealt with that question.
Pergaps one of the most attractive things about being Superman would be the ability to fly. Most of us have flown in our dreams. The first Christopher Reeves Superman movie promised us that it would make us believe a man can fly. Well, we learn in the first few pages of Astro City that Asa Martin, the Samaratin, who can fly still dreams about it just like te rest of us. Why? Because of something that we've seen many times before in Superman and superhero comics, movies and TV shows. There are so many demands on his time, so many people that he could save, that no matter how hard he tries he can't do it all. This much is an observation that has been made many times before. Busiek goes on to show us that because he tries to do it all he never has the time to enjoy flying, except in his dreams.
Astro City isn't great iterature. It doesn't try to be. It merely tries to tell small stories, human stories about people who live in the world of comics. Lots of people have tried to make comics "realistic". Few of them have ever succeeded. The Marvel comics of the Silver Age gave the heroes stereotypical personal problems. The DC comics of the 70's had them deal with real world social issues like drugs and prejudice. The "grim and gritty" school of the 80's and 90's took away their heroism, the clarity of black and white, good and evil, but also hope and meaning. Astro City, for my money, takes a much better approach than any of these. It gives us authentic human beings set in the world of comics supereroes.
Astro City is fun. The art is .. art, or perhaps better illustration. Ross and Anderson give us solid representational art, putting flesh and bone on Busiek's characters. Busiek gives us characters that are people and stories that are on the one hand authentic and on the other heroic and hopeful. He explores a world that we as comic book readers obviously thought was appealling and shows us why it is so fascinating.
It's not clear to me that three books with overlapping creative teams constitutes a trend, but I think in this case it does, in part because of the critical acclaim and fan acceptence that these books have drawn and in part because I see things in them reflected in other books that I have or will be listing in these pages. In any event, I recommend Astro City for its art, its writing, its realistic realism as well as its hope, heroism and ideals, and most of all because it is fun.
---
|| Previous | Comics Page | JimB's Home Page | Next ||
---
|| Home Page | Musings | Role Playing | Nerd's Corner | News | Genealogy | Eldacur | Free Speech ||
---
Copyright ©1994-2005 Jim Burrows.
All Rights Reserved.
Last Updated: Jul 15, 2008